Florida Folk Dance Council, Inc.
---
Florida Winter Workshop 2023
Friday, February 3 to Monday, February 6

Ramada Gateway Kissimmee
Click Here to register online
COVID Policy
As we are beset with new viruses, please be considerate of those who might be more susceptible to disease than you.
Do not come if you have a fever more than one degree above your personal normal, a good indication that your symptoms are not allergies.
Test for covid if you think there is any chance of your having it and bring your negative test results.
Feel free to wear a face mask at any time.
Thank you about caring for your fellow dancers,
Gary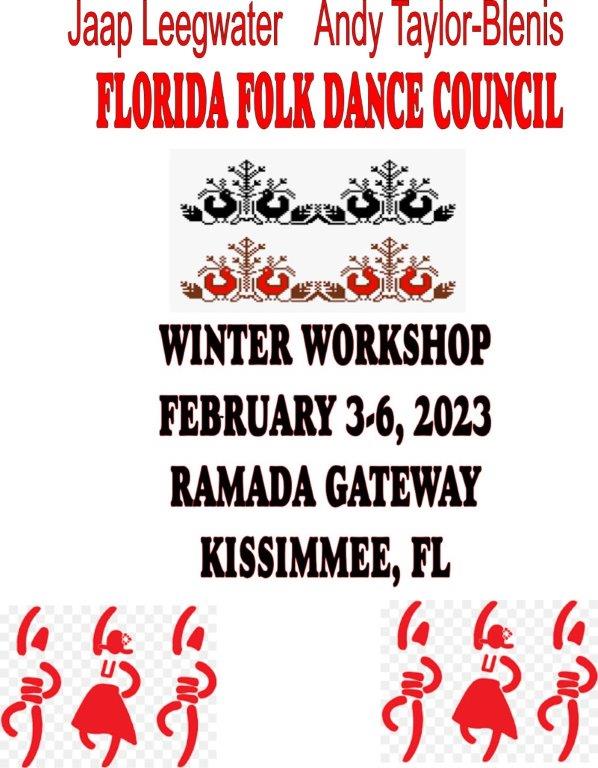 The Florida Winter Workshop will feature two outstanding instructors, teaching Bulgarian and a variety of dances from the international community. The event will be held at the Ramada Gateway on U.S. 192 in Kissimmee, Florida. Registration will be at the hotel starting at 5:00 pm on February 6 followed by an evening of request dancing with brief appearances by each of the instructors. On Saturday and Sunday there will be two classes in the morning, one class and a culture corner in the afternoon. Saturday and Sunday evening will feature a program of dances that have been requested by the dancers during registration. Monday morning will be a review by both instructors. The event ends at noon Monday.
The hotel will serve lunch and dinner both days.
The complete package includes instruction, lodging, and all meals. Partial options are available.
This is a membership event, and membership in the Florida Folk Dance Council, Inc. is included in the registration.
As always, we have an awesome T-Shirt for a small additional donation. This year our artists are honoring Ukraine.
---
Fall Fling 2022
South Brevard thanks everyone who came and made Fall Fling so much fun. The Potluck was great, the dancing was superb. And thanks to Bobby and Myriam for running the music.
---
Other Upcoming Special Events
Click on Event Name for more information
---
Ever wonder what dance workshops have been held in Florida?
Help us remember
Click Here to see the current list
---
Renew or Become a Member of the Florida Folk Dance Council, Inc.
Dues for membership are $10 a year single, and $15 per year for family and are renewable by March 1. This includes an e-mail subscription to the Florida FolkDancer. If you wish to have the Florida FolkDancer printed and mailed to you, add $10.00 to the membership fee. Please send check made payable to Florida Folk Dance Council, Inc. to the treasurer:
Florida Folk Dance Council, Inc.
250 Lincolnshire Rd
Winter Park, FL 32792
© Copyright 2000-2022 Florida Folk Dance Council, Inc.